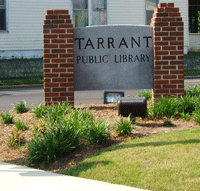 1143 Ford Avenue
Tarrant, AL 35217
(205) 841-0575
HOURS:
Monday 9am-5pm
Tuesday 9am-5pm
Wednesday 9am-5pm
Thursday 9am-5pm
Friday 9am-2pm
Saturday Closed
Sunday Closed
email: patrick.coleman@tarrant.lib.al.us
Patrick Coleman, Director
Directions: I-59 to Tallapoosa St. exit. Turn right at end of ramp, & travel on Hwy 79 into Tarrant. When you see American Ranch House on left, go 1 block & turn right onto Ford Ave. Go 2 blocks. Library on right.